WHAT WE DO
Cornerstone AVi is a Florida licensed electrical contractor that specializes in custom electronic design and integration for commercial and residential spaces.  We serve The Villages, Ocala and the surrounding regions.
Cornerstone AVi can enhance, integrate and organize your digital lifestyle. Our team is dedicated to enhancing the lives of our customers by planning and integrating your next smart home automation project, or designing and installing sophisticated electronic systems throughout your commercial facility.
Our greatest goal is to create a better everyday life for you by making your office or home more enjoyable and easier to manage. We accomplish this by providing, in part, the finest audio and video electronic system integrations that are specially designed to suit your needs and exceed your expectations.
Our Mission is to provide home and business owners with high quality electronic system solutions that are simple, a pleasure to interact with and enhance your home or business digital lifestyle.
Our Vision is to become North Central Florida's premier provider of low voltage system solutions in residential and light commercial applications.
Our Values are built on honor, integrity and respect.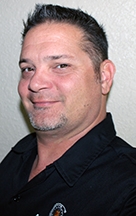 DARRELL LEE
Owner
My first exposure to electronics was back in the late 70's when my uncle worked as some high level computer engineer traveling the world building, fixing computers and doing some kind of top secret stuff (well, so he said). However, I was instantly drawn to that mysterious box and wanted one.
Naturally, I did what any broke kid would do. I sold everything I could find, flipped lunch money selling candy in school, mowed lawns on the week-ends, took out the trash and finally convinced good ol' mom to pitch in the remaining cash. I purchased my first computer – TI99/4A. I would spend countless hours learning how to code and troubleshooting programs. Just geeking out, listening to records and building technical skills that would lead to a degree in Computer Science/Network Engineering.
As time passed I continued to accumulate addition skill sets in the construction/electrical trade, programming, audio/video, design, installation, lighting production, security and mechanics; many thanks to all the mentors I had throughout life. Little did I know how all these skill sets would eventually tie together – forging myself a future as a System Integrator building Home Theaters, Smart Homes, along with all the latest technologies that enable us to really control our environment's functions with a single button press.
Our brand portfolio has been carefully curated over many years to bring you the best in value and performance.